Webnames Anycast delivers a 102% faster response time than other providers for Canadian-based traffic.
A high performance and reliable DNS is mission critical to your business. Fast DNS response times contribute to a positive user experience on your website and 100 per cent up-time for DNS resolution keeps your organization from disappearing off the Internet.
There are numerous vulnerabilities that can take down your DNS – DDoS (denial of service) attacks, network outages, configuration errors, power outages, etc. The cost of a DNS outage can range from hundreds to millions of dollars per hour for a business or an organization – not to mention the reputational impact.
Despite the high risk and cost of DNS outages, most organizations have not taken steps to adequately protect their DNS. The solution is a high performance and reliable anycast DNS infrastructure managed by an expert team. While the cost of building and managing such an infrastructure is prohibitive for most organizations, Webnames Anycast DNS Service provides a cost effective alternative. Webnames Anycast is a secondary DNS service that leverages a global anycast infrastructure, providing a 100 per cent SLA for DNS resolution and fast DNS response times. Anycast helps to improve both the availability of your websites and the speed of access to them.
Anycast Features
Disaster Proof
In total, 24 Anycast servers are online and managed to provide a 100 per cent up time service level agreement (SLA).
Fully redundant, load-balanced, state-of-the-art equipment in every node helps improve capacity, latency, security and up-time.
Speed
Anycast technology automatically routes DNS queries to the geographically closest nameserver to reduce latency for your visitors.
Anycast included seven sites across Canada in well-peered IXPs to keep latency low for your important Canadian traffic.
DDOS Resiliency
DDoS attacks that originate off-shore are soaked up by the International nodes to mitigate the risk that hackers can bring down your website and services.
DDoS attacks within Canada are soaked up by the local node that is geographically closest to the attack, protecting the rest of your Canadian traffic.
Expert Support
Anycast DNS is monitored 24 hours a day by networking and DNS experts to keep the system running and help mitigate attacks.
Technical Support is available 24X7.
100% Uptime SLA
Anycast's global infrastructure is architected to provide uninterrupted DNS service, and the service is backed with a 100 per cent uptime SLA.
Secure
Support for DNSSEC
Signed zone transfers using TSIG.
IPV6 Support
Includes support for IPv6 DNS resolution.
Architected for Canadian Businesses & Traffic
Webnames Anycast DNS is a secondary nameserver service that is global in nature, but architected with Canadian traffic in mind. With two clouds spanning 14 nodes – 7 situated in or around major Canadian population hubs, plus another 7 distributed across the US and Europe, including a super-node in London – Anycast is fast, dependable and optimized for Canadian businesses.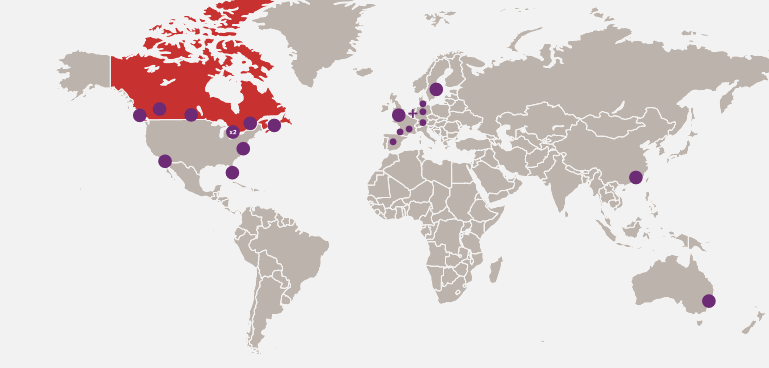 Canadian Nodes
Vancouver
Calgary
Winnipeg
Toronto 1
Toronto 2
Montreal
Halifax
International Nodes
Los Angeles, CA – US West
Ashburn, VA – US East
Miami, FL – US East
Stockholm, SE - Europe
London, UK – Europe (Super-Node)
Hong Kong, CN - Asia
Sydney, AU – Australia
---
More Information
If you have specific questions about Anycast's features that are not addressed here, or require help determining which plan is right for your organization, contact our Customer Support team by calling 1-866-976-9835 and one of our DNS experts would be happy to assist you.