E-mail Forwarding
E-mail Forwarding is an extremely powerful tool that allows you to create e-mail addresses (aliases) for a registered domain name and have them 'channeled' or redirected to a working e-mail address. Each domain registration includes one free email channel, additional email channels are $5.00 / year.
Using your own easy to remember domain name, E-mail Forwarding is the perfect way to mask a generic ISP e-mail address or a long, cumbersome address.
Multiple "aliases" may be set up (e.g. president@yourdomain.ca, info@yourdomain.ca, sales@yourdomain.ca) that you can then channel to any working e-mail address (a great way for small businesses to mimic a larger corporation). There is no limit to the number of aliases you purchase.
All you need is:
A working e-mail address for the e-mail aliases to channel to (can be through a free e-mail service such as hotmail.com as long as it works) and
A registered domain name that is not already hosted by another Internet service provider
NOTE: E-mail Forwarding does NOT provide you with an e-mail account or mailbox with which you can store e-mail or send e-mail.
Email Forwarding cannot be used in tandem or mixed with Webnames' traditional email services.
To manage your domain's email channeling address(es):
Log into your Webnames.ca account
Navigate to My Account > Manage >Domains
Click the domain name for which you want to add/edit email channeling accounts.
Click the Email Forwarding tab.
Create your desired forward and define the existing email address to forward mail to.
Click Save when complete, or Save and Activate to save changes and make the service live on the Internet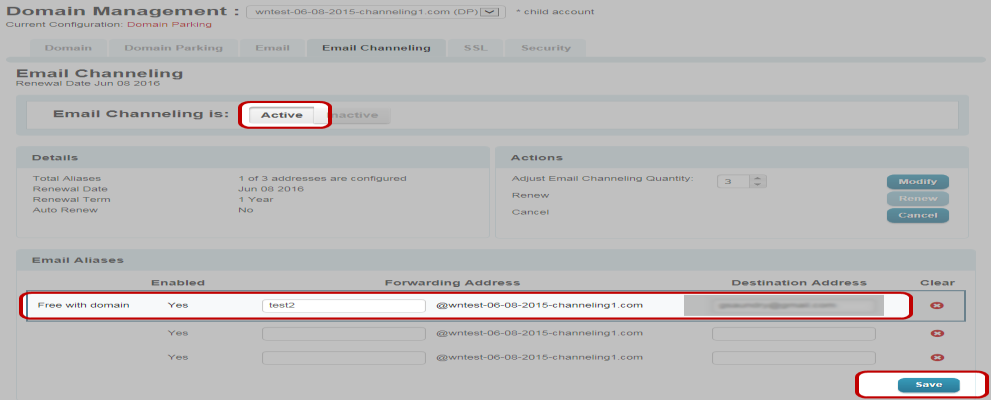 See Also